For Project 'Skyfall' speed is what you need
Related News
Turkish superyacht builder Sunrise Yachts has beaten off stiff competition to secure a contract for the construction of 68m 'Skyfall'. The vessel, which will be project managed by Worth Avenue Yachts, will become the 19th, and largest yacht commissioned by legendary owner John Staluppi, to date.
Staluppi is renowned for commissioning projects that tread new ground and according to vice president of sales and marketing, Jean-Claude Carme, in an exclusive interview with SuperyachtNews.com, this latest project was imagined as a showcase for new technologies.
"The client has previously built the fastest yacht in the world and he is technically very exacting, as he should be", Carme explained. "So for him to choose us to build his biggest yacht to date is recognition of what we're trying to achieve."
Sunrise fought off global competition for the client's contract, and Carme says it is a testament to the yard, and Turkish shipbuilding in general. There was interest from bidders in northern Europe, America and Asia, but the battle was won and lost on the technological proposals put forward by Sunrise. The yard liaised with Frank Mulder, who had worked on previous Staluppi projects, and identified the key systems to be included on board. These included a Voith Linear Jet propulsion system and the lauded MME microturbine system, which generated significant excitement among delegates at the 2013 Global Superyacht Forum, but is yet to be tested on a yacht of this scale.  As Carme explains, "for a man who seeks 'firsts' the MME microturbine system was the perfect fit."
What were the major facets of the bid? "Speed", says Carme. A top speed of 23 knots for a full displacement steel hull where, "it can achieve a relatively high speed with a relatively low draft. This is important because of the client's preference for cruising grounds such as the Bahamas and Florida."
"The combination of speed, draft and volume defines a rather complex equation", Carme continues. This was another reason for bringing Mulder, a purveyor of 'fast designs' in on the project.
The design, a conception of Italy's Valicelli Design, fitted, says Carme, the client's brief. And although it has undergone the obvious tweaks and adaptations in conjunction with Staluppi, was "the perfect fit". Principal Andrea Valicelli said, "the originality of the style, playing with harmonious contrasts between soft and rigid formal elements is clearly noticeable in the sheer-line. Moreover, the low angle of the transom slope, reminiscent of a racing sailing yacht, and the long forward overhang help Project Skyfall to be a very slender yacht."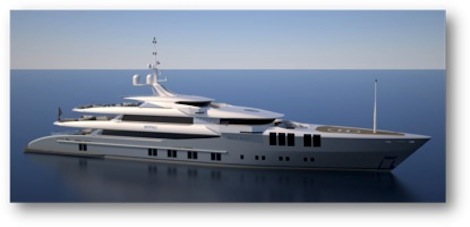 Worth Avenue's Peter Thompson has been advising Staluppi for many years, and is also an associate of Carme, so the rapport the various parties were able to establish was, according to Carme, also influential. Commenting on the resonance of the project Thompson said, "there are some yachts that become game changers, that alter the desires and aspirations of future designs simply becoming 'the way of the future'; this is one of those yachts."
Sunrise CEO, Guillaume Roché is currently preparing for the Miami Boat Show but he issued this statement to the industry:
"It means a lot to us to be chosen to build such an ambitious project, especially for one of the world's most experienced yacht owners. It is both an acknowledgement of our achievements in the six short years of our shipyard's operation, and a motivation to further pursue excellence in our standards. We are looking forward with great anticipation to this unique opportunity that is creating a floating work of art with creative and competent people."