YachtEZ Import And Export and our domestic division of YachtEZ Import is proud to offer with our custom boat manufacturing, brokerage, and retrofit services, announcing our business collaboration with the equally impressive custom tackle fabrication company with home base in the yachting capital of the world, Fort Lauderdale, Florida….. the newest and best for that ultimate fishing experience….. SaltH20.
As with our own company policy mandating perfection, SaltH20, excels in mastering the perfect tackle for the avid angler where mistakes are not tolerated in their quests for the successful and perfect catch… failure not an option.  That takes the perfect equipment matching the task as well as an experienced captain, crew, and fishing machine, which we are proud to offer ALL at our SERVICES section of the company.  We set out to be, and are rapidly becoming, the one-stop-shop that the buying marine client needs to not waste time nor money, always getting the best deal the first time, talking to professionals who built what they do, YachtEZ Group building and retrofitting boats by boaters, the SaltH2O  company, caught by fishermen, built by fishermen.
NOT YOUR AVERAGE TACKLE SHOP
At SALTH2O Custom Tackle, the principals and staff like to say, "We have saltwater in our DNA"…. simply put, but very direct. You see, they are fishermen and saltwater runs in their blood like in our's as boat builders, knowing the sea like the air in our lungs. After many years of building custom rods and working in other tackle stores, and after countless hours of sharing ideas on what they would do if these fishermen and other tackle shop employees….now Principals, ever owned a tackle shop of their own. With what they all brought to the table, their stars aligned and the opportunity presented itself.  Next stop of this to the go-deep-fast-bound-no-nonsense-train, opening SALTH2O!!… in the Quay, on 17th Street Causeway in Fort Lauderdale, FL…. aka Brokers Row. They saw the need for an entirely new concept in saltwater tackle stores and that is what this custom tackle shop brings to you today. After all, as they say …"we are fishermen first and we have the same needs on and off the water as our customers."
SALTH2O is proud of what they've built and excited to provide you the customer, with the finest products and service in the world of saltwater fishing. When you visit this shop for the first time, you will immediately notice what sets it apart from the competition. They want you to feel welcomed and at home. They take tremendous pride in their work and stand behind everything they recommend, make, and provide.
SALT H2O TACKLE
They are proud of what they've built from dreams and most important…. experience, and excited to provide you the customer, with the finest products and service in the world of saltwater fishing. When you visit SALT H2O TACKLE for the first time, you will immediately notice what sets them apart from the competition. They want you to feel welcomed and at home
SERVICES
ALL YOUR FISHING NEEDS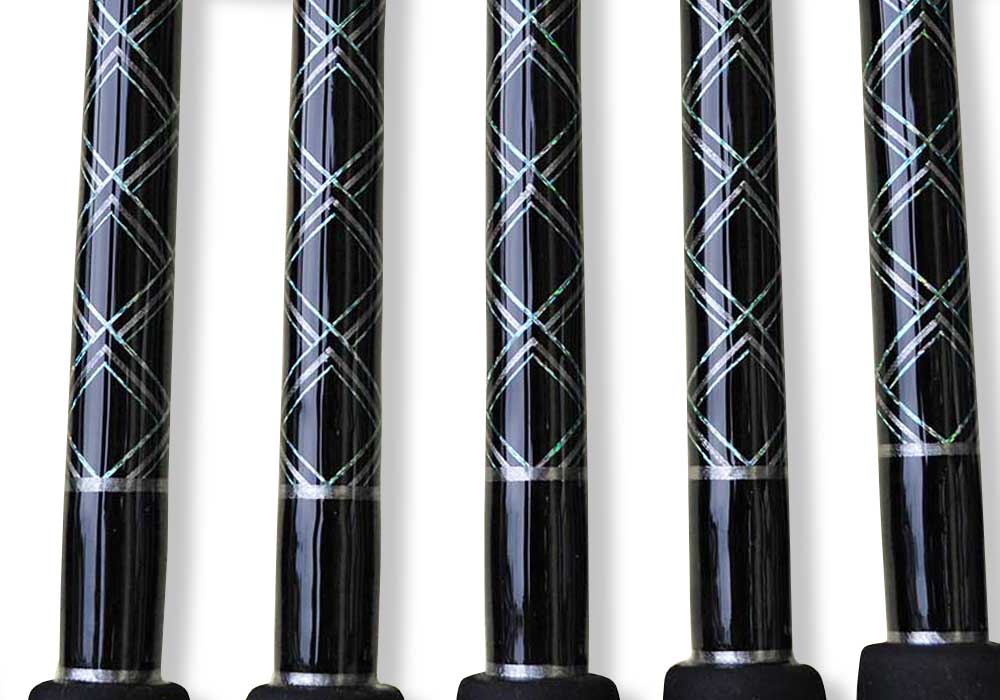 CUSTOM RODS
We offer a complete line of our own custom built fishing rods. With over 15 years of experience, our rod builders and guide wrappers are recognized as two of the most talented in the business. Come into the shop and let us show you why many of the top professional crews in the world of sport fishing choose our rods. From bonefish and blue marlin in the Bahamas, to Giant Bluefin Tuna in Nova Scotia, our rods are delivering the finest performance on the water right now. With countless rod blank, guide options and wrap patterns, we can build anything your imagination desires.
CUSTOM OUTFITTING
We can outfit your vessel with any and all fishing gear and related equipment. Whether you own an outboard center console, a 70' sport fishing machine or a mega-yacht, we can take care of all your needs. From rods and reels to anchoring systems and fenders, we can outfit your vessel completely. We include comprehensive consulting services to all of our customers, so you are sure to get the tackle and equipment that fits your budget as well as your needs.

CUSTOM RIGGING
We provide custom rigging services that our competitors don't. We go the extra mile to provide you with an inside edge. From custom rigged bait orders, outrigger set ups, kite fishing outfits and more, we can get you pre rigged just like the professionals. In fact many professional crews trust us to pre-rig for them, knowing that they can trust us to deliver on the performance true professional's demand. We use the highest quality terminal tackle on the market for all our custom rigging orders.

OFFSHORE TACKLE
SaltH2o Custom Tackle carries the finest offshore tackle from across the globe. They carry all the name brands as well as many brands not available in the big box stores. They know what products the top fishermen in the world are using and bring those same products to all of their customers. From fishing lines, marlin lures and tarpon jigs, to tag sticks, flying gaffs and fishing tools, SaltH2o Custom Tackle carry the best offshore gear in South Florida.
FULL ROD & REEL SERVICE
SaltH2o Custom Tackle is a full service tackle shop and offer a host of repair and reconditioning services. They service all major reel brands including Penn, Shimano, Avet, Accurate, Diawa, Lindgren Pitman, and all major power assist reels. SaltH2o Custom Tackle will repair and recondition fishing rods as well, offering guide replacement and repair, tip repairs and re-epoxying. They can make your older rods and reels look and perform like new.
FISHING APPAREL
We offer the most complete line of Pelagic High Performance Offshore Gear in Fort Lauderdale. Combining casual lifestyle wear and high performance fishing apparel, with, headwear, footwear, gloves, neck shields and high end polarized optics, Pelagic has it all. Stop by and browse the "Pelagic" wall for all your apparel needs, including the newest offerings in outer-wear and the new Polarized Mineral Glass (PMG) sunglasses.
And now, able to get onsite or custom order by size and embroidery, YachtEZ Group Apparel(LEVI Trucker Jackets & Vests), our authentic and licensed LEVI embroidered Trucker Jackets and Vests… and now SHIRTS… IN STOCK ONLY AT SALTH20:
Having access to the best products, from the best local, national, and international businesses and references, makes getting the right thing at the right price, with one place to look and find. All of the businesses and products we recommend on our site, have been tried and proven by boat builders, fishermen, owners, captains and crews, and we stand behind unconditionally.  For the best, look right here and no further.