Description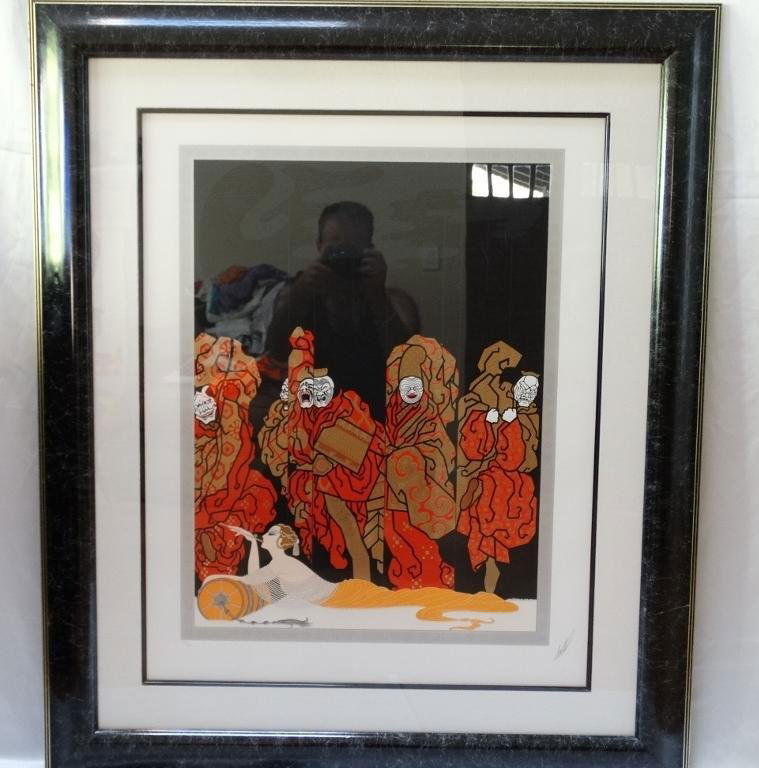 ERTE "OPIUM" 1985 Signed Limited Edition #21 of 300 on cotton museum quality rag paper
ERTE (ROMAIN DE TIRTOFF) RUSSIAN (1892-1990)
DESCRIPTION
Erte (Russian, 1892-1990) "Opium" (From the Mah-Jongg Suite) 1985 Signed Limited Edition Numbered 21/300 – This piece comes in the original wooden frame, with a black satin finish, real gold 1/4″ beveling border, and a 3″ museum quality matting. The piece is signed by the artist in the lower right and numbered in pencil in the lower left side. Over a long and distinguished career, Erte had a major influence on the style and design of the 20th Century. The designs created by Erte during his lifetime heavily influenced the world of theater, film and fashion, but an entire art movement as well. His work is considered among the most influential and unique of the 20th century, earning him the title "Father of Art Deco." The piece (including the frame) measures 42″ x 36″, and is in mint condition.
PAYMENT:  The buyer is responsible for paying the seller directly after final accepted offer. Details on accepted payment methods and where to send payment are provided in an invoice from the seller.  Additional payment details from the seller:  You can call: to make payment or you will receive a separate invoice,that will allow you to pay online. Everything MUST be paid for in full within 48 hours of the agreed upon signed purchase agreement.  BUYER further agrees that under no circumstances will he/she initiate a charge-back on his/her credit card.  A 35% reselling fee

will be applied to items not paid in full by the Tuesday following signed agreement NO EXCEPTIONS. Wire transfer will be required on all purchases over $5000.00. We will not provide the 3% "cash discount" on Cashiers Check Payments since it takes clearance time of 15-days from our bank on all cashiers check transactions unless you choose to do a wire transfer. We will not provide this cash discount if you mail in a cashier's check (no personal checks please).  All PAYMENTS,  including cashier's checks, must be received by the Tuesday following the agreed price and signed Purchase Agreement.  Payment in full must clear prior to shipment of items. 
SHIPPING:  The buyer is responsible for paying all shipping costs and arranging for shipping and delivery with the seller.  Additional shipping details from the seller:BUYER PAYS ALL SHIPPING & PACKAGING MATERIAL COSTS–WE DO IN-HOUSE SHIPPING.  We will combine shipping on multiple item purchases for our buyers as another courtesy.  Shipping insurance and signature confirmation is required on each package at buyer's expense.  All items will be shipped within 4-6 (BUSINESS) days of the auction, or once payment in full is received.In the event that you need to make a claim with FedEx you will need to complete the following:   1) KEEP THE BOX, ALL PACKING MATERIAL & THE DAMAGED ITEM (INCLUDING ALL BROKEN OR DAMAGED PIECES).**IF YOU THROW AWAY THE BOX AND PACKAGING UPS (our shipper of choice unless specifically other requested) WILL DENY YOUR CLAIM.  We do in-house packaging and shipping.  All packages will require signature confirmation, tracking & insurance.  For more information, please request tp see our terms and conditions. 
AUCTION: Knowing when to bid: An event can last a few hours. To help figure out when an item will come up for auction, watch the pace of the event by contacting our auction division at Yachtioneer.com, contact information at the following link: http://yachtez.com/auction/  and keep in mind that items usually come up in lot order.  High-End Jewelry, Antique Lace and Collectibles, Handbags, Art, & Antiques offered by Sphynx Fine Art, LLC, by and thru Yachtioneer.com, online auction service, every first Saturday of the month,